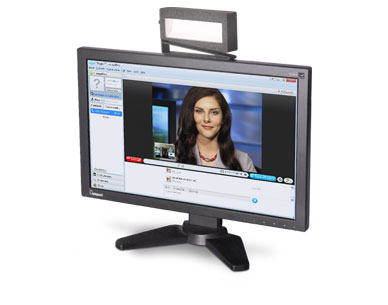 ViewMe B Lighting Kit
The single bracket mounted light attaches to the top of your computer screen with an adjustable yoke to cast soft, indirect lighting. Lighting that actually flatters you, defining your features while eliminating severe shadows.
ON
OFF
Technical Specification
Designed & Manufactured in the U.S.A.
Specifications
Housing
Constructed of 22 gauge CRS, then coated with durable black textured TGIC polyester powder coat finish.
LED Modules
Osram/Sylvania HF2 Narrow Stick LED. Fixture is 3.4 watts and produces a soft, even coverage wash of 3000K light. LED is 85 CRI with a rated life of 50,000 hours.
Reflector
Precisely formed aluminum reflector is coated in durable, highly reflective, white TGIC polyester powder coat finish. Indirect design provides comfortable, soft illumination.
Electrical
Power supply unit is a 120 thru 240 volts 50/60 Hz transformer. It is 24 volt, DC Class 2, with plug for any standard electrical 120 volt outlet. UL, CUL, CE Listed. RoHS Compliant. Fixture operates silently and includes on/off button.
Packaging
Boxed in heavy 200# corrugated cardboard with formed foam insert, your kit is well protected for portable use.
Mounting
Bracket Mounted with a formed 18 gauge CRS yoke. Unit may tilt for aiming and can be locked in place. Bracket attaches to the top of your computer screen with double sided Velcro tape (supplied).
Instructions
Plug power driver into the hole closest to the On/Off button.
Attach Velcro tape to the bottom of the bracket to secure to your monitor. Loosen thumb screw to tilt fixture to desired position and tighten in place.